This week's outlook isn't the most bullish, making it much harder to find profitable cryptocurrency to buy.
The market has so far been bearish, with Bitcoin further dragging assets down. As the industry braces for what might be an extended bearish run, savvy traders are looking for the right asset to buy. Getting the best cryptocurrency to buy in times like this can be challenging, but there are always opportunities out there.
Let's dive right into our roundup of the best cryptocurrency traders can buy now.
5 Best Cryptocurrency to Buy Now – July 2021 Week 4
1. Ether (ETH)
Kicking off our list is Ether – the second most valuable cryptocurrency.
For years, Ether has moved in tandem with Bitcoin. This bearish run isn't proving to be any different, with Ether already down 6.15 percent in the past 24 hours and 11 percent in the past week.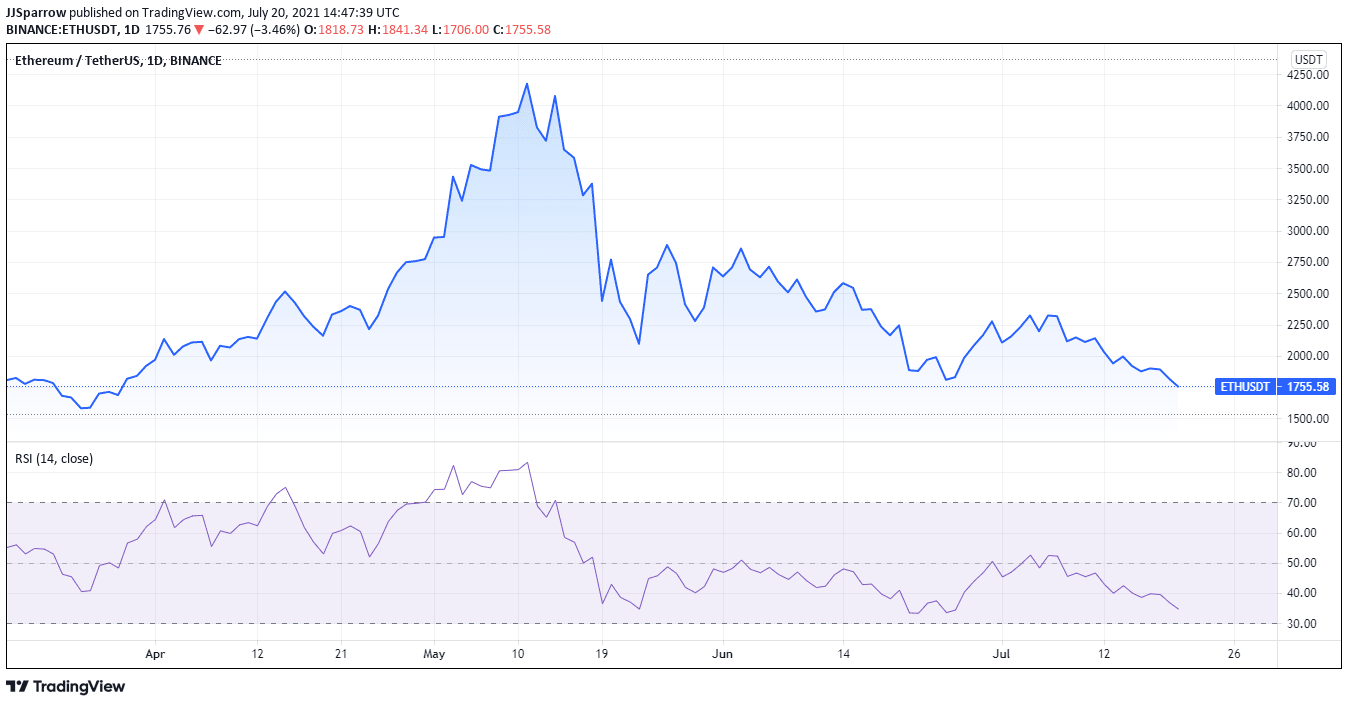 In fact, since the month began, ETH's current price peg of $1,708.59 marks a 16 percent drop in the asset's price. It is also a far cry from the coin's all-time high of $4,331.
Despite all of this, ETH remains a good cryptocurrency to buy. The asset's blockchain is the most popular in the industry, and some analysts believe that it could eventually propel ETH to become the most valuable cryptocurrency.
ETH has shown significant potential to rise, and it seems to be available at a bargain right now. If you're a long-term investor, you don't want to miss this.
ETH also has favorable technicals, with a relative strength index (RSI) of 33.27 and a 20-day moving average (MA) of $1,905.
It might not meet that 20-day MA in a while, given the current market slump. But, ETH is a good long-term buy. It has the pedigree and functionality locked in,so it is a great cryptocurrency to buy however you look at it.
2. Polygon (MATIC)
MATIC is the native token for Polygon – a blockchain scalability platform that many have called "Ethereum's Internet of Blockchains."
Polygon is one of the most famous blockchain platforms, and MATIC has undoubtedly benefited from its prominence.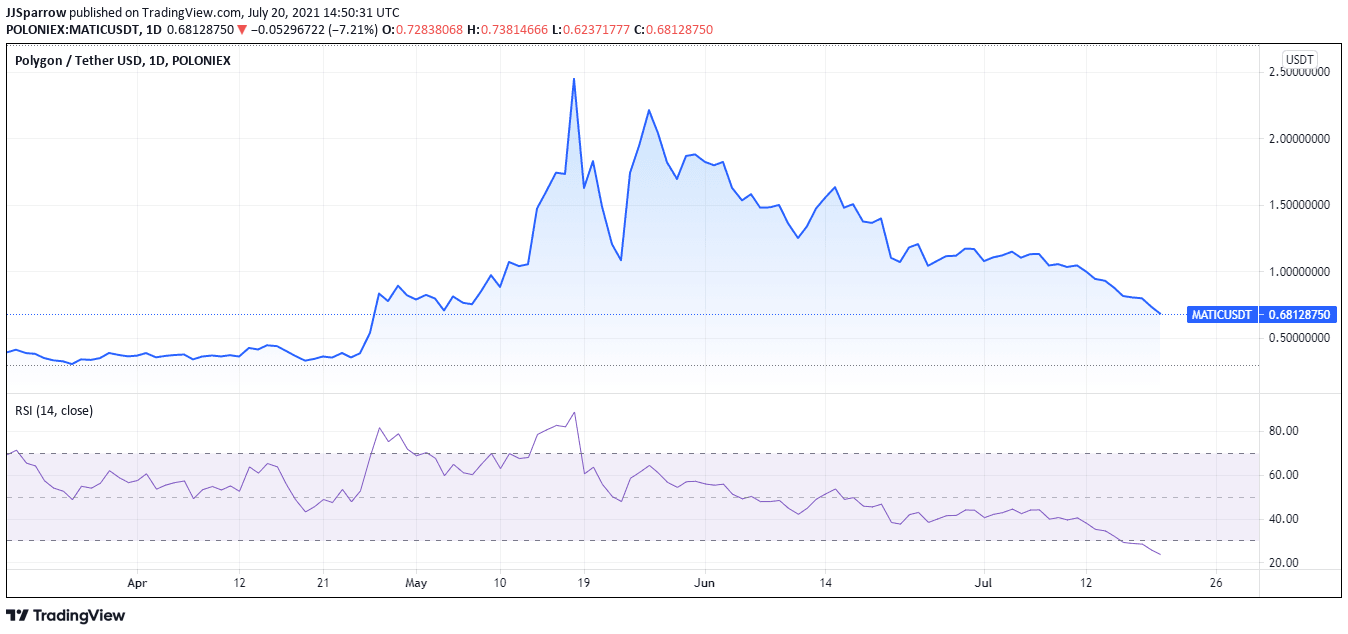 MATIC currently trades at $0.63 – down 19 percent in the past 24 hours and 36 percent in the past week.
While this doesn't look good, MATIC is expected to enjoy the same benefits as Ether – increased gains over time from more blockchain adoption.
The Polygon developers have been ramping up on projects over the past few months, culminating in the launch of Polygon Studios earlier this week.
🔥 Presenting Polygon Studios: our brand new arm for the Blockchain Gaming & NFT ecosystem. This will cement Polygon's existing lead position as the de-facto platform for NFTs & Gaming!@_PolygonStudios aims to bring the Web2.0 world to Web3.0.

🌐 https://t.co/Qzi5ywbljJ https://t.co/MpVdQS46pP

— Polygon (@0xPolygon) July 19, 2021
The new subsidiary will be an NFT and blockchain gaming studio, marking Polygon's foray into the fledgling NFT sub-industry.

When the market eventually bounces back, areas like NFTs will see growing adoption. Ethereum might be the preferred blockchain, but Polygon also has a claim to stake. This presents an opportunity for investors.
MATIC is also quite cheap at the moment, with the asset trading over 200 percent off from its all-time high of $2.69. Its RSI stands at 22.91 and its 20-day MA is $0.98.
3. Theta Fuel (TFUEL)
While it might not be so popular, TFUEL is another cryptocurrency to buy in this period. The asset is the native token for the Theta Network – a blockchain-powered video delivery network. With Theta, users can watch video content and share them with others. The more they engage, the more they earn.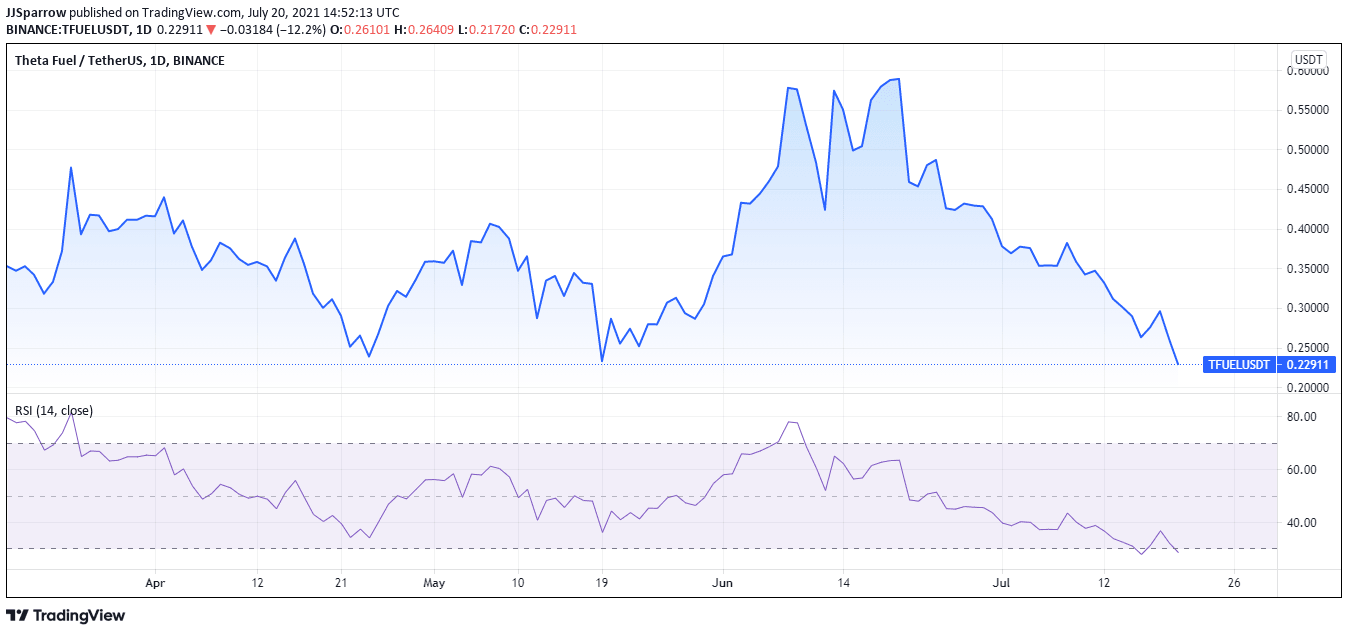 TFUEL was introduced last June, and after reaching an all-time high of $0.67 in June, it began its slump. The asset has so far found successive lows, and its current price peg of $0.22 represents a new one. TFUEL is trading down 17 percent in the past day and 31 percent in the last week.
So far, there is still a lot of growth to be done with Theta. Reports confirmed that the network now has a million stable users, and the developers also hope to step into the NFT space soon. With their primary product offering users an opportunity to earn passive income, there is a lot of room for greater adoption – and, by extension, room for TFUEL to grow.
Investors can get TFUEL at a bargain right now. With the asset holding an RSI of 28.36, it is underbought – a positive sign. But, it is far off from its 20-day MA of $0.32.
4. Decentraland (MANA)
MANA is the token for Decentraland – a blockchain-based virtual reality platform that was first introduced in 2017. Decentraland is a world where users can buy, develop, and sell LAND – a non-fungible ERC-721 token that represents ownership of virtual land in the platform.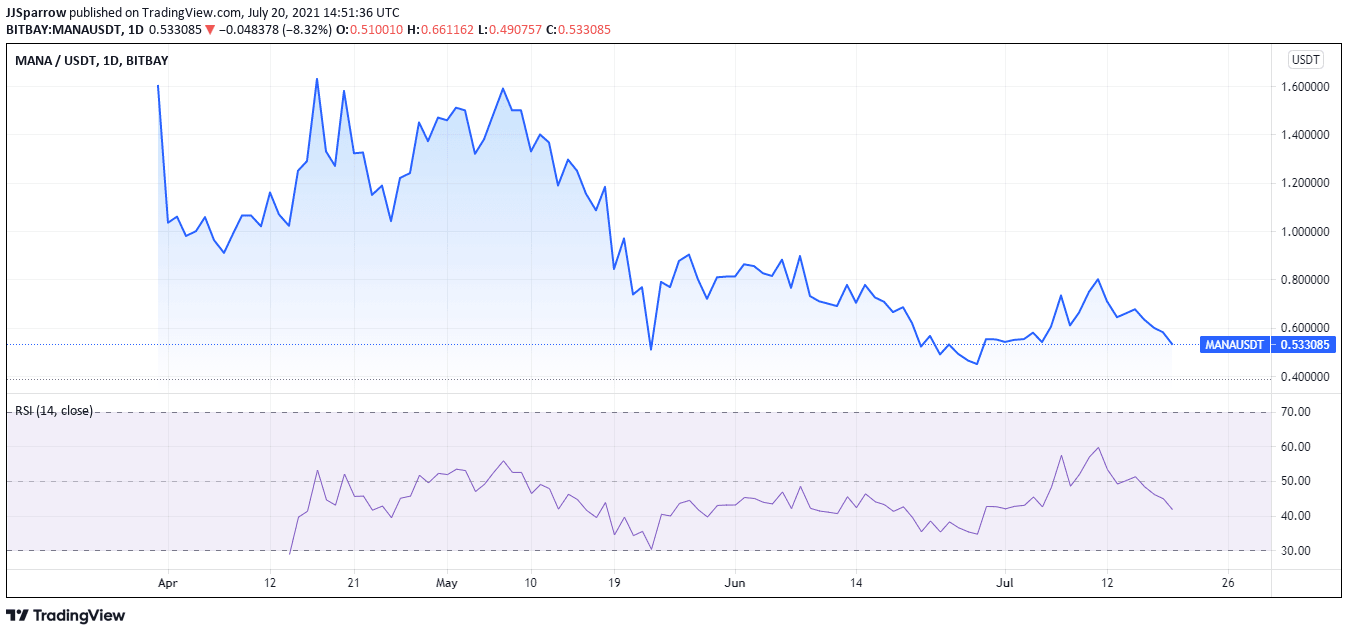 Each LAND parcel is unique, and owners can choose the content they want to publish on their portions. MANA is used to pay for goods and services in Decentraland, and it has grown quite popular.
MANA launched this year, arriving just in time to jump from $1 to $1.7 and get hit by the market downturn. The asset's bottom so far has been $0.374, but with a current price peg of $0.50, it could find a new low soon.
MANA is trading down 16 percent in the past day and 27 percent in the past week. As expected, its value is tied primarily to the use of Decentraland. With use ramping up and LAND parcels selling for record amounts recently, there is enough to be excited about Decentraland. MANA has also gotten attention from big industry names like Grayscale Investments, which launched a Mana Trust in March.
ANNOUNCEMENT: 5 new products have been added to the @Grayscale line up!

Basic Attention Token $BAT
Chainlink $LINK
Decentraland $MANA
Filecoin $FIL
Livepeer $LPT

Interested? https://t.co/YfK2YUKgCj pic.twitter.com/jLqDph4MEH

— Michael Sonnenshein (@Sonnenshein) March 17, 2021
So far, MANA hasn't exactly been able to show its potential. The asset will be a great cryptocurrency to buy when the market downturn blows over completely. MANA is currently underbought with an RSI oF 36.91. Its 20-day MA stands at $0.62 – quite too high for now.
5. Binance Coin (BNB)
BNB is one of the most valuable cryptocurrencies in the market. The native token for Binance, it ties everything that the exchange has to offer. This coin definitely needs no introduction.
As a large-cap asset, BNB has been a headliner of the current market downturn.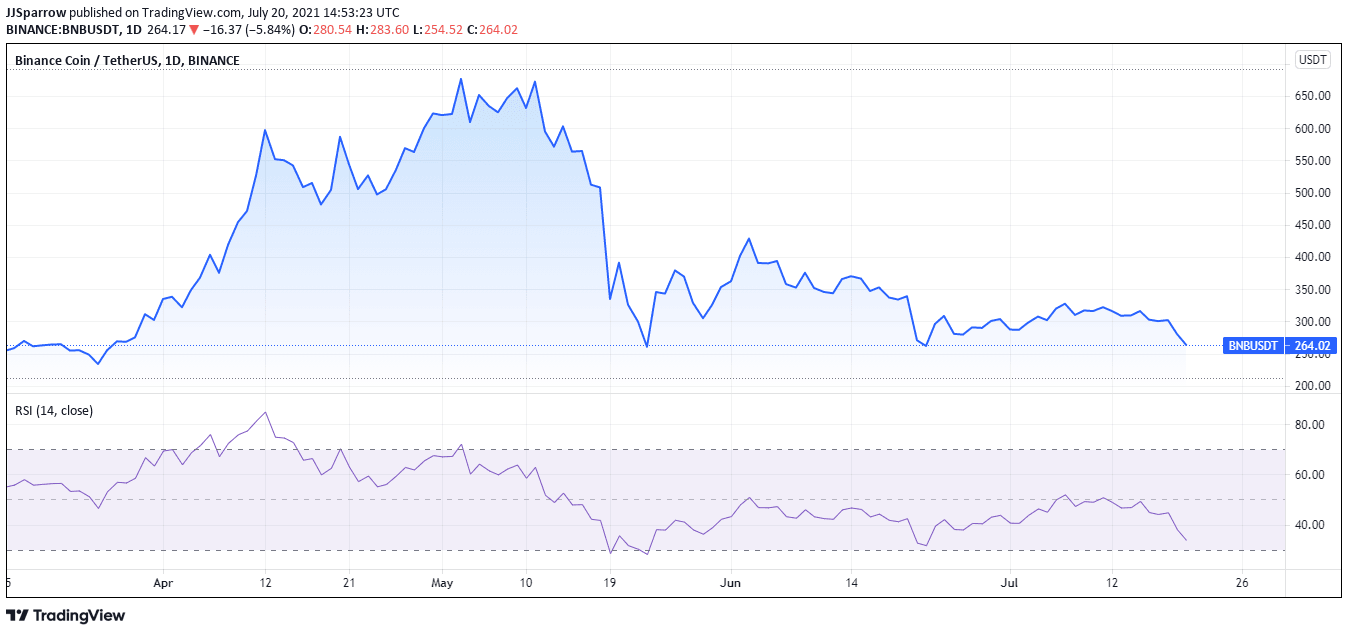 With a price peg of $260.88, BNB has fallen off quite a lot. The asset hit its all-time high of $691 before tumbling, so its current price is down 164 percent from its high.
Currently, BNB is trading down 12 percent today and 16 percent in the past week. Some of the asset's woes can also be tied to Binance, with the exchange fending off issues with several regulators and halting the sale of stock token sales.
Regardless, BNB remains a great cryptocurrency to buy. History shows that Binance's woes aren't so much of a problem, and BNB is one of the most valuable assets means that it will eventually headline the market rebound. Its 33.9 RSI shows that the asset is underbought, but that 20-day MA of $302.75 is a bit of a long road to go